Well, there's no shortage of download managers for the Android operating system. Android users widely use download manager apps like Turbo download manager, ADM, etc.. However, you don't really need a download manager app if you use Google Chrome.
Google Chrome is the best Android web browser available out there. Downloading files from Google Chrome is quite easy; it has a built-in download manager that works pretty well in downloading files. But, sometimes, you might face issues while downloading specific files like download not working or download stuck in 50%, etc.
How To Fix Download Issues on Chrome Browser for Android
Recently, lots of Android users have messaged us regarding the download paused error on the Chrome browser. Resuming the download does nothing, and it keeps getting paused while downloading. So, in this article, we have decided to share a few best methods that would help you to deal with downloads keep pausing problems on a Chrome browser for Android.
1. Restart Your Device
Well, restarting device can fix most of the problems, including the download stuck error messages. So, before trying any other methods, make sure to restart your Android device. Once done, check whether the problem persists or not.
2. Check the Storage Space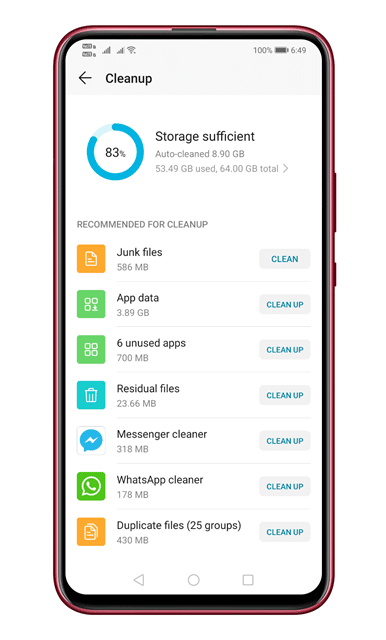 If your phone lacks storage capacity, then your download will be paused automatically. Not only on Chrome, but if your phone lacks storage, then you will get download issues on other apps like Google Play Store. So, head to the Settings > Storage and check whether your phone has enough storage or not.
If your phone doesn't have enough storage, then uninstall the unused app or clean up the duplicate files from your device.
3. Turn off Data Saver
Well, the data saver of Android is fully compatible with the chrome browser. But, if you have accidentally blacklisted the Chrome browser on the Data saver settings, then you will get the download errors.
To allow the background data usage for Chrome, you need to open the Settings > Apps > Chrome browser. There you need to enable the 'Allow background data usage' option.
4. Disable VPN
Lots of users have reported that they have fixed the Chrome download paused problems by disabling the VPN. So, if you are using a VPN app and the Chrome downloads kept pausing in the middle, then you need to disable the VPN app.
If possible, use Google public DNS server to get better download speed. To change the DNS settings on Android, read our article –
5. Reinstall Chrome Browser
If all of the above methods failed to fix the download issue, then you need to reinstall the Chrome browser. This will clear all cache, cookies, and history saved on the browser. To reinstall the chrome browser, simply uninstall the app and then restart the smartphone.
After the restart, head to the Google Play Store and install the Google Chrome browser.
So, these are the best methods to fix downloads keep pausing on Chrome for Android. I hope this article helped you! Share it with your friends also.